2022 NEW PRODUCT / CHRISTMAS NEW IN
Creality launched three new 3D printers, including CR-10 Smart Pro, Ender-3 S1 and Sermoon V1 & V1 Pro. Creality always dedicated to realize creative ideas through 3D printing innovation. The new 3D printers have various highlights, but they all have an ultimate goal to optimize the using experience. It will be on sale in 2022. Let's learn more about the new arrvials.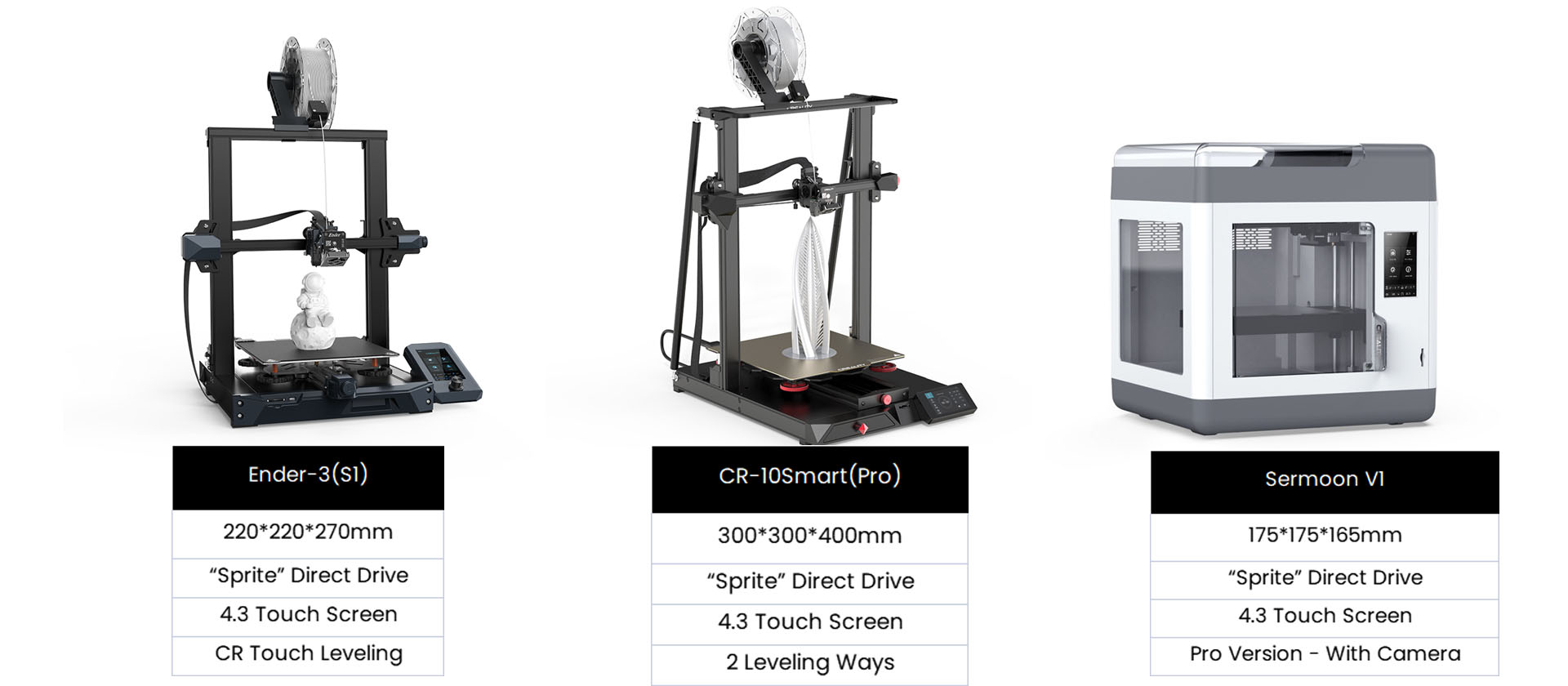 All of them adopt the Creality Latest "Sprite" Direct Dual-Gear Extruder. Different from the previous Ender 3/5 series and CR-10 Series, Creality tries to make some upgraded or breakthrough on the extrusion method.
Ender-3 S1 comes with the Standard Direct direve extruder with dual gear design; And the CR-10Smart Pro configurate with ALL METAL VERSION
________________________________________________________________________________________________
Fully Enclosed: The fully enclosed chassis is safe and stable, and features a multi-faceted transparent visual design. Convenient to view at any time
Automatic Feed/ Return : Smart one-button controls enable automatic feed/ return, reducing the difficulty of manual operations and preventing blockages
Intelligent Door: The safety sensor is triggered as soon as the door is opened, pausing the printing process and quickly cooling down the device, safe for kids or pets (*This feature is only available on the Pro version)
Quick-Disassembly Platform: Bendable metal magnetic platform provides highly stable printing, and easier to take out the mold
Silent Printing: With super silent fans, the 4-axis silent IC mainboard ensures no indoor disturbances during operation
Difference between V1 & V1 Pro- Remote Printing & Monitoring
Use the Creality Cloud APP to remotely operate and print, monitor the printing situation through the camera, everything is under control (*The monitoring camera is only available on the Pro version)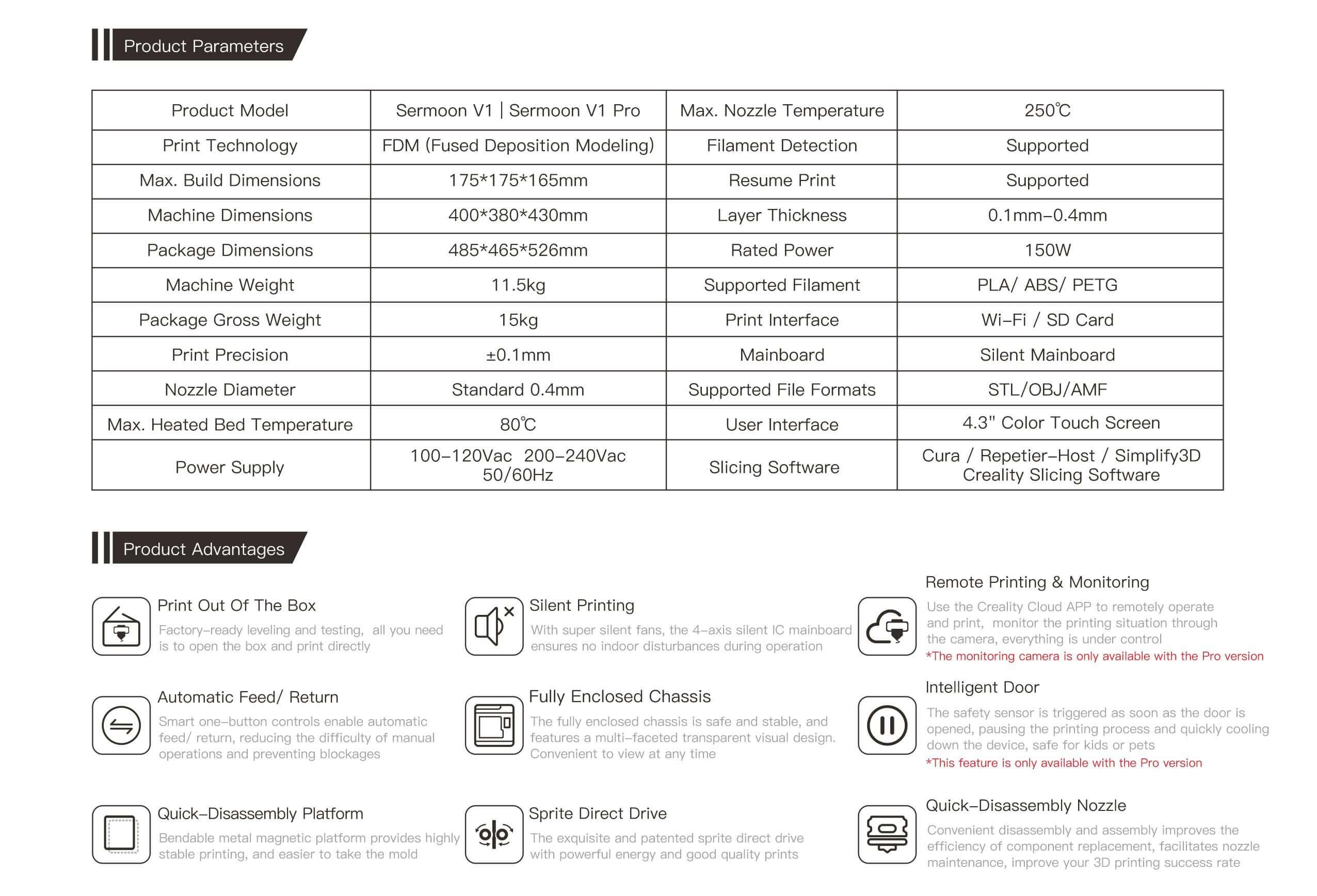 - CR Touch automatic bed leveling worry-free
- High-precision dual z-axis higher printing precision
- Removable PC spring steel print sheet
- Low-noise operating allows you to enjoy printing
- The screen allows you to operate at ease
- Double protection no fear of risks
- Simple 6-step assembling
- Print Size: 220*220*270mm
- Price & Specs: Retails for $399, Available in Jan 2022(US/EU/UK Warehouse)
Ender-3 S1 Unboxing and Assembly Reviews:
Creality Ender 3 S1: Specs, Price, Release & Reviews | All3DP
Creality Ender 3 S1 Review: A Direct Drive 3D Printer for DIY Enthusiast/ By noveltymaker
---
CR-10 Smart Pro 3D Printer - Direct Drive

- Support Wi-Fi/Bluetooth/RJ45,
- Remote Control via Creality Cloud App
- 2 Leveling Ways: Smart + Manual
- 4.3 HD Camera and LED Light
- Dual-gear Direct Extruder Compatible with Diverse Filaments,
-
Removable PC spring steel print sheet
- Print Size 300x300x400mm
For Product Reviews, welcome to contact us via market@creality3dofficial.com.