Creality K1: Breaking through the boundaries and embarking on a journey of creating infinite possibilities
2023-06-15
In today's rapidly evolving technological world, 3D printing technology is becoming the tool of choice for creators and manufacturers. Creality, as a leading 3D printer brand, has been committed to promoting the development and innovation of 3D printing technology. As the latest masterpiece of the brand, Creality K1 is an important milestone in its development and extension.


The birth of Creality K1 is the result of Creality's deep understanding of market demand and continuous exploration of technological frontiers. Creality realizes that in the field of 3D printing, speed and efficiency have always been the focus of users. Therefore, Creality made a groundbreaking announcement on April 9, 2023, introducing the K1 and K1 Max printers that have set a new standard in the world of 3D printing. With prices starting at $599, the K1 series offers an unprecedented default speed of 600mm/s, allowing it to produce a Benchy, a widely recognized benchmark model in 3D printing, in just 13 minutes. This remarkable achievement represents Creality's unwavering dedication to pushing the boundaries of speed and efficiency in the 3D printing industry.


We already have hundreds in stock and ready to ship right away!
| | | | | |
| --- | --- | --- | --- | --- |
| Data | Creality K1 | Bambulab P1P | FLASHFORGE Adventurer 4 Pro | Tiertime UP300 |
| Printing speed | ≤600mm/s | 500 mm/s | 300mm/s | 200mm/s |
| Build Volume | 220*220*250mm | 256 × 256 × 256 mm | 220 x 200 x 250 mm | 205 × 255 × 225mm (8″ x 10″ x 8.8″)(XYZ) |
| Nozzle Temperature | ≤300 Celsius | 300℃ | 265℃ | 299℃ |
| Printing Accuracy | 100±0.1mm | | ±0.1 mm | ±0.1mm/100mm |
| Leveling Mode | auto-leveling | auto-leveling | Auto-leveling (30-point leveling) | auto-leveling |
| Supported Filaments | ABS, PLA, PETG, PET, TPU, PA, ABS, ASA, PC, PLA-CF, PA-CF, PET-CF | PLA、PETG、TPU、PVA、PET | ABS/PLA/PETG/SILK/PLA-CF/PETG-CF/High Speed PLA/High Speed PETG | UP Fila ABS、ABS+、PLA、TPU |
| Slicing Software | Creality Print; compatible with Cura, Simplify3D, PrusaSlicer | Bambu Studio | Flashprint | UP Studio Version 2.5 or above |
| Price | 599$ | 699$ | 799$ | 2,199$ |
Combining various factors, the performance of Creative k1 is obviously better than other models in the same type of 3D printers, and it is cost-effective.
K1 and K1 Max: Unleashing the Power of Choice
Creality introduces two exceptional models as part of their latest flagship printer lineup: the K1 and K1 Max. These printers offer distinct options to cater to different needs and preferences.
The K1 Max, the larger variant, boasts an expansive build volume of 300x300x300, providing ample space for your ambitious printing projects. It incorporates cutting-edge technologies such as Lidar and AI assistance, enabling advanced functionalities and precise printing capabilities. Priced at $999, the K1 Max embodies the pinnacle of innovation and performance.
On the other hand, the K1 offers a compact build volume of 220x220x250, making it suitable for a wide range of printing applications. While the K1 does not come equipped with Lidar or AI assistance out of the box, Creality offers these features as optional add-ons. This flexibility allows users to customize their printing experience based on their specific requirements. With a price tag of $599, the K1 presents an affordable yet reliable option for 3D printing enthusiasts.
Whether you prioritize an expansive build volume and advanced technologies or seek a more budget-friendly option with room for personalization, Creality's K1 series has you covered. Explore the possibilities and unleash your creativity with the K1 or K1 Max, tailored to elevate your 3D printing journey.


| | | |
| --- | --- | --- |
| Feature | K1 | K1 Max |
| Price | $599 | $969 |
| Build Volume | 220x220x250 mm | 300x300x300 mm |
| Printer Dimensions | 355x355x480 mm | 435x462x526 mm |
| Filament Diameter | 1.75 mm | 1.75 mm |
| Lidar | Optional | Yes |
| AI Assistance | Optional | Yes |
| Max. Tool Head Speed | 600 mm/s | 600 mm/s |
| Max. Tool Head Accel. | 20,000 mm/s² | 20,000 mm/s² |
| Max. Hotend Flow | 32 mm³/s | 32 mm³/s |

Prepare to embark on a groundbreaking 3D printing journey with the extraordinary Creality K1. This cutting-edge printer pushes the boundaries of innovation and redefines what is possible in the world of additive manufacturing

1.At the heart of the K1 lies its unparalleled speed, revolutionizing the printing experience. With an astounding default speed of 600mm/s, this powerhouse of a machine shatters the conventional limitations of time. Within a mere 13 minutes, the K1 effortlessly brings to life intricate Benchy models, setting a new industry standard for rapid prototyping and production.

2.But the K1 is not just about speed—it is a true game-changer in terms of functionality and versatility. Its expansive build volume of 220x220x250 provides an expansive canvas for your imagination, empowering you to bring your boldest ideas to life. From intricate architectural models to functional prototypes, the K1 embraces complexity and delivers exceptional precision with every print.
3.In the pursuit of perfection, Creality has equipped the K1 with an array of intelligent features. The Creality OS, a sophisticated operating system, seamlessly integrates with your workflow, offering a seamless and intuitive user experience. Effortlessly control your prints, synchronize data, and execute commands from your PC, smartphone, or even the Cloud. The K1 adapts to your needs, effortlessly bridging the gap between imagination and realization.
4.To cater to diverse requirements, Creality presents optional enhancements for the K1. While Lidar and AI assistance are not included by default, these advanced technologies can be added to the K1, unlocking a new level of precision and automation. Seamlessly integrate Lidar's laser-based scanning capabilities to capture intricate details, or harness the power of AI for intelligent print analysis and optimization. The K1's modular design empowers you to customize and upgrade your printing capabilities, ensuring you stay ahead of the curve.
5.Beyond its remarkable features, the K1 represents Creality's unwavering commitment to empowering creators and pushing the boundaries of what is possible. It embodies a relentless pursuit of excellence, delivering not just a printer, but a gateway to innovation and limitless creativity.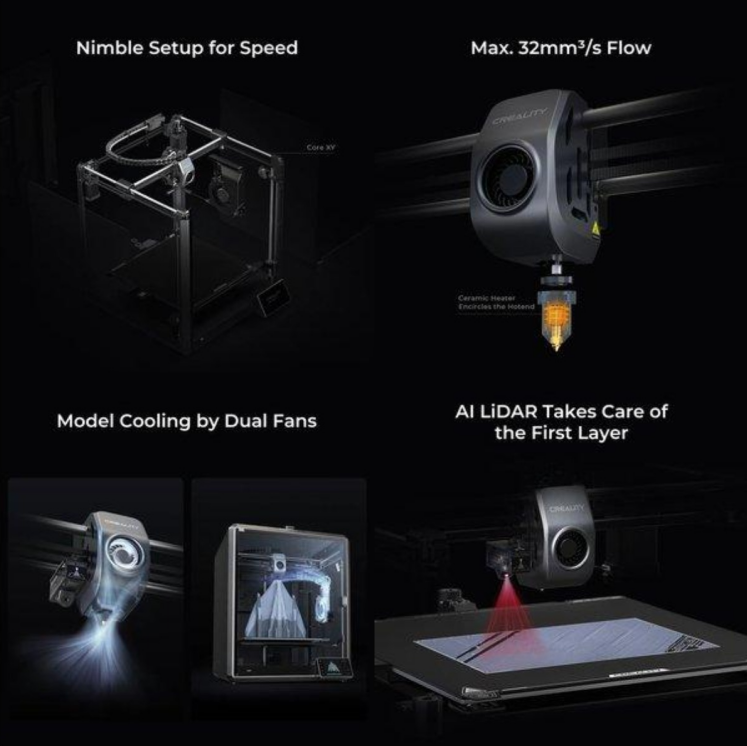 Features
| | |
| --- | --- |
| Feature | Description |
| High Speed Printing | Reaches 600 mm/s in only 0.03s based on 20,000 mm/s² acceleration |
| Lightweight Toolhead | Combining nimble CoreXY kinematics with a 190g printhead for less motion inertia |
| Max. 32mm³/s Flow | New ceramic heater encircles the entire hotend, heats to 200℃ in 40s and melts the filament instantly |
| Dual Hands-Free Auto Leveling | Automated bed leveling and bed mesh generation |
| Model Cooling by Dual Fans | A large fan on the printhead cools the model directly and a chamber-mounted 18W auxiliary fan adds extra cooling |
| Chamber Air Filter | Filtering out VOC's produced during the printing process |
| Creality Print 4.3 with Speed Genes | The latest self-developed slicer includes rich presets and streamlines the slicing process into 3 simple stages |
| Max Capacity, Efficient Use of Space | Boasts a 300x300x300mm large build volume, great for rapid prototyping or design verification |
| AI-assisted Carefree Printing | Features AI assistance for automated, 'hands-free' printing |
| AI LiDAR Takes Care of the First Layer | The 1 μm resolution LiDAR scanner gives a perfect first layer every time |
| AI Camera Keeps a Keen Watch | With failure detection, alerts when an error occurs, real-time monitoring, and creating time-lapses for sharing |
| Smart System, Unbridled Performance | Adopts the smart Creality OS, syncs data and commands with PC, phone, Cloud, and add-on modules |
| Intelligent Aid to Your Print Farm | Ability to monitor and control the printing from a PC or phone with Creality Print software or Creality Cloud |
| Filament Sensor | Real-time monitoring of filament supply, stopping a print on filament runout |
| Rigid Frame, Stable Quality | The frame is built with rigid die-cast aluminum alloy parts enabling steady printing at high speed |
If you're using the Creality K1 3D printer, we've got some helpful tips that can ensure you get the best possible prints. Here are six tips that will help you get the best results:
Tip #1: Make sure to turn off the arc configure enable setting in the slicer. When this feature is enabled, it can cause artifacts to appear in your prints. To avoid this, simply turn off the arc feature and you'll get better results.
Tip #2: If you're printing with TPU, the default profile may be a bit too cool. Try bumping up the temperature to around 250 degrees for better results. Also, slow down your print speeds to around 50 mm/s to get the best performance.
Tip #3: The filament removal routine on the K1 is more automated than you might think. When removing filament, simply press the retract button and let the printer do the work. Don't manually push the filament in, as this can cause issues. Simply press the extrude button once you've inserted your new filament to finish the process.
Tip #4: The bed glue stick may look damaged, but this is normal. Each time you remove a print, some of the glue stick will come off with it. To keep your bed working properly, wash it off periodically and apply a fresh layer of glue stick as needed.
Tip #5: Keep up with firmware updates. Since the K1 is a brand-new printer, updates are being released frequently. These updates can improve the performance of the printer and fix any bugs that may be present.
Tip #6: Inside the slicer under the devices tab, you can select details next to your printer. This will allow you to manage the internal memory and storage on your slicer, making it easy to remove older prints you no longer need.
By following these tips, you can achieve the best results possible when using the Creality K1 3D printer. And if you have any other tips or questions, feel free to leave them in the comments below.