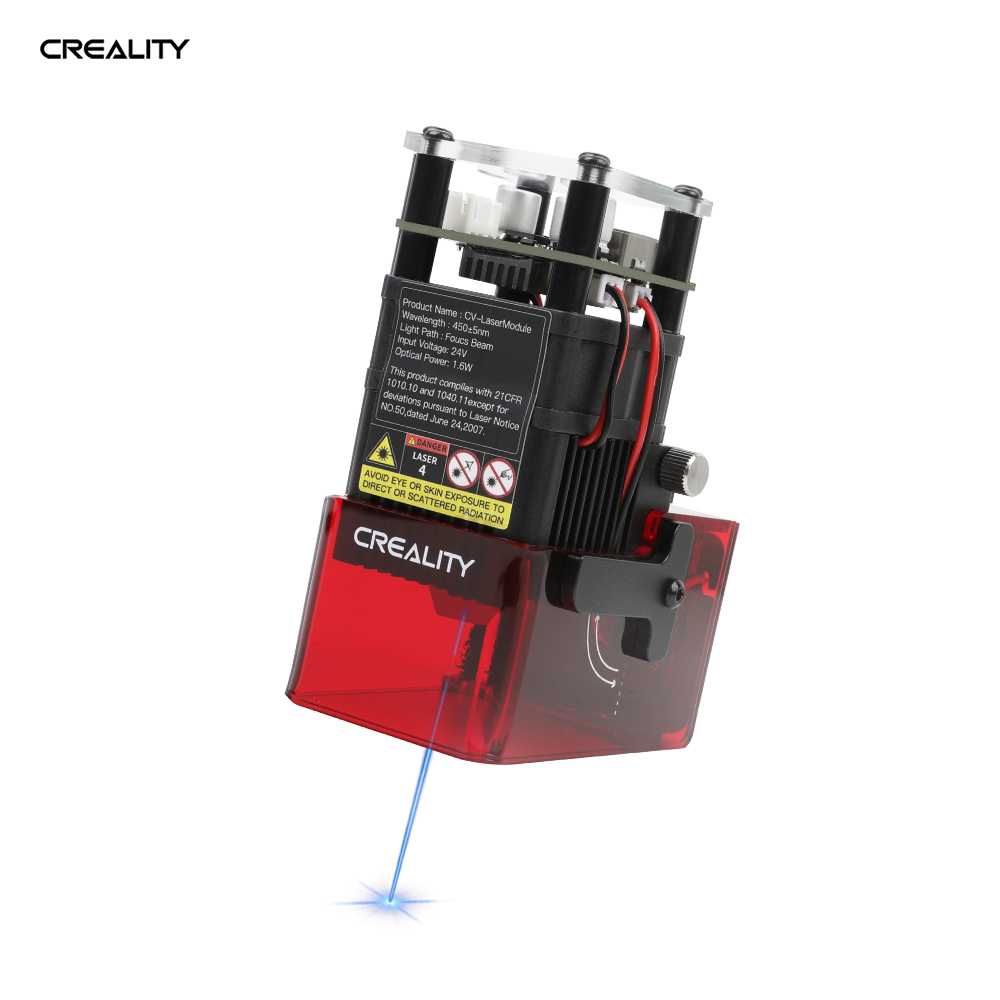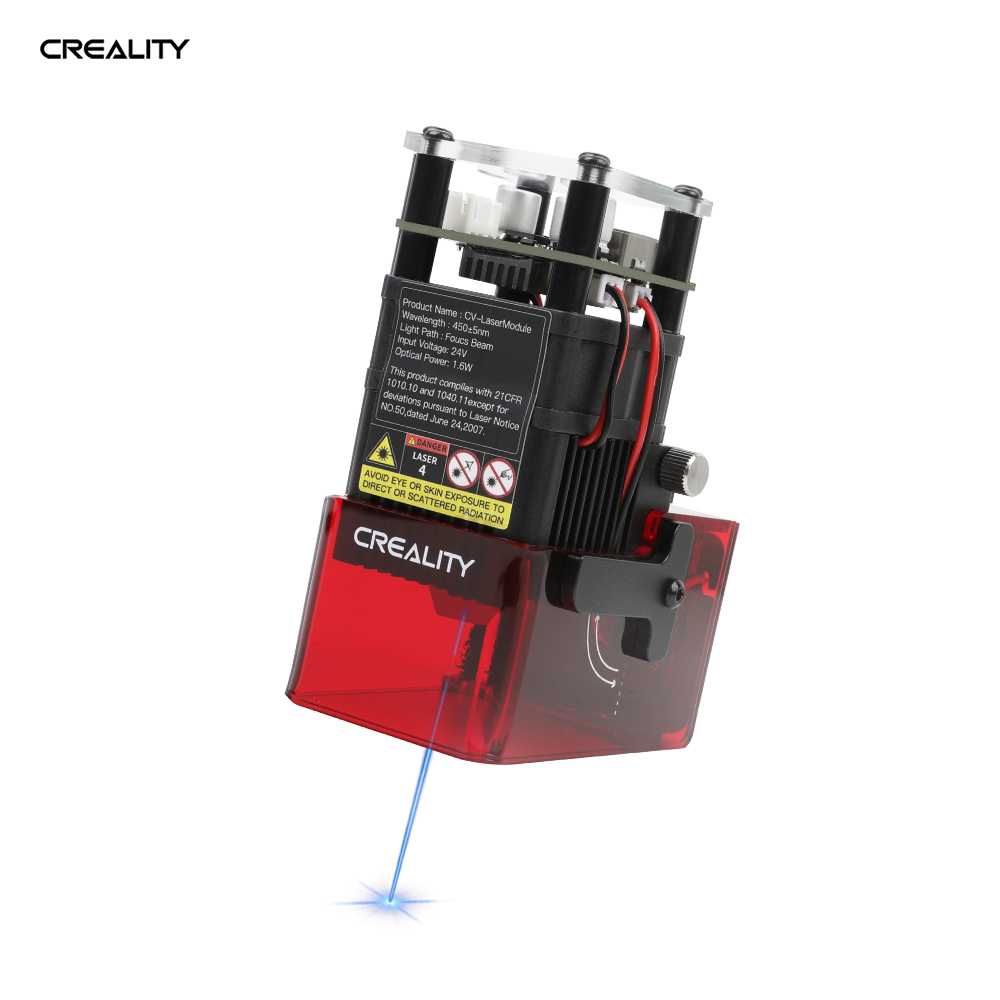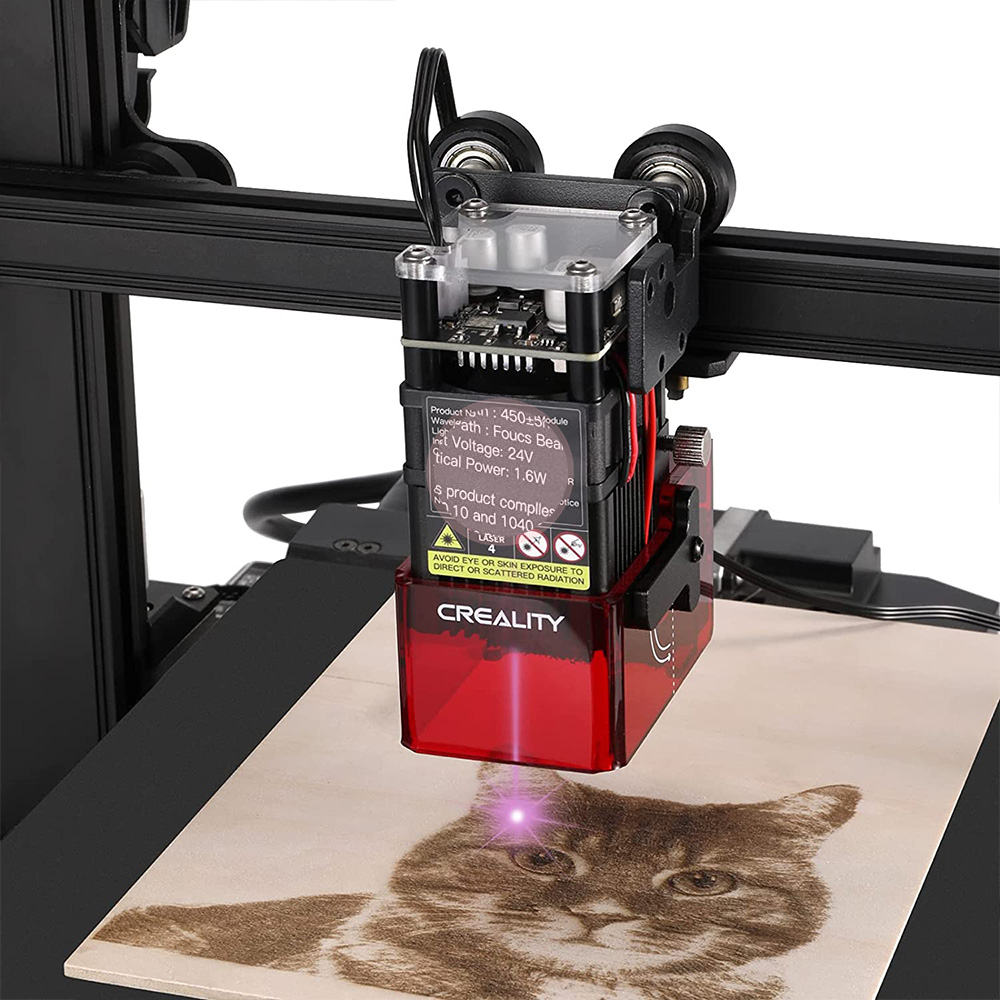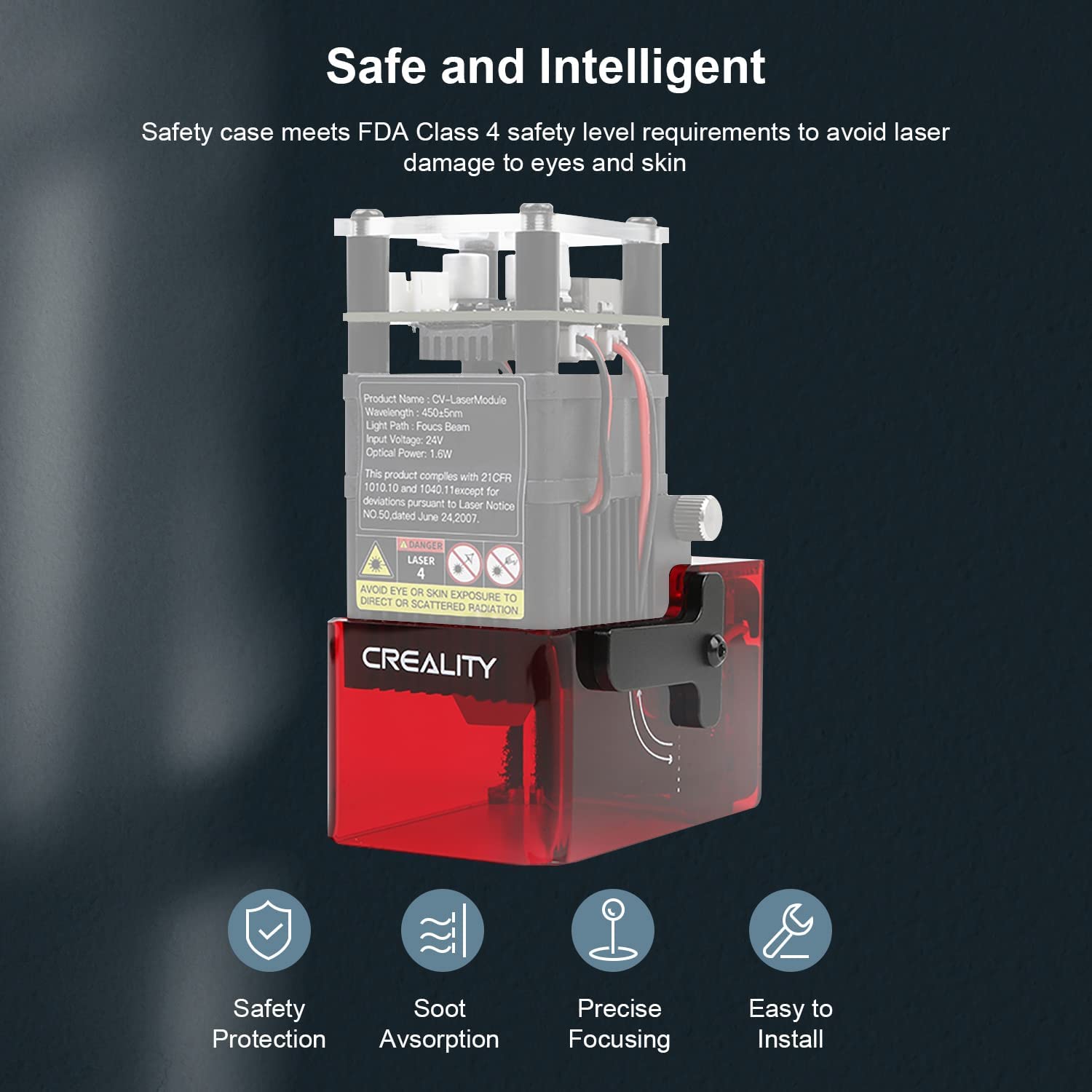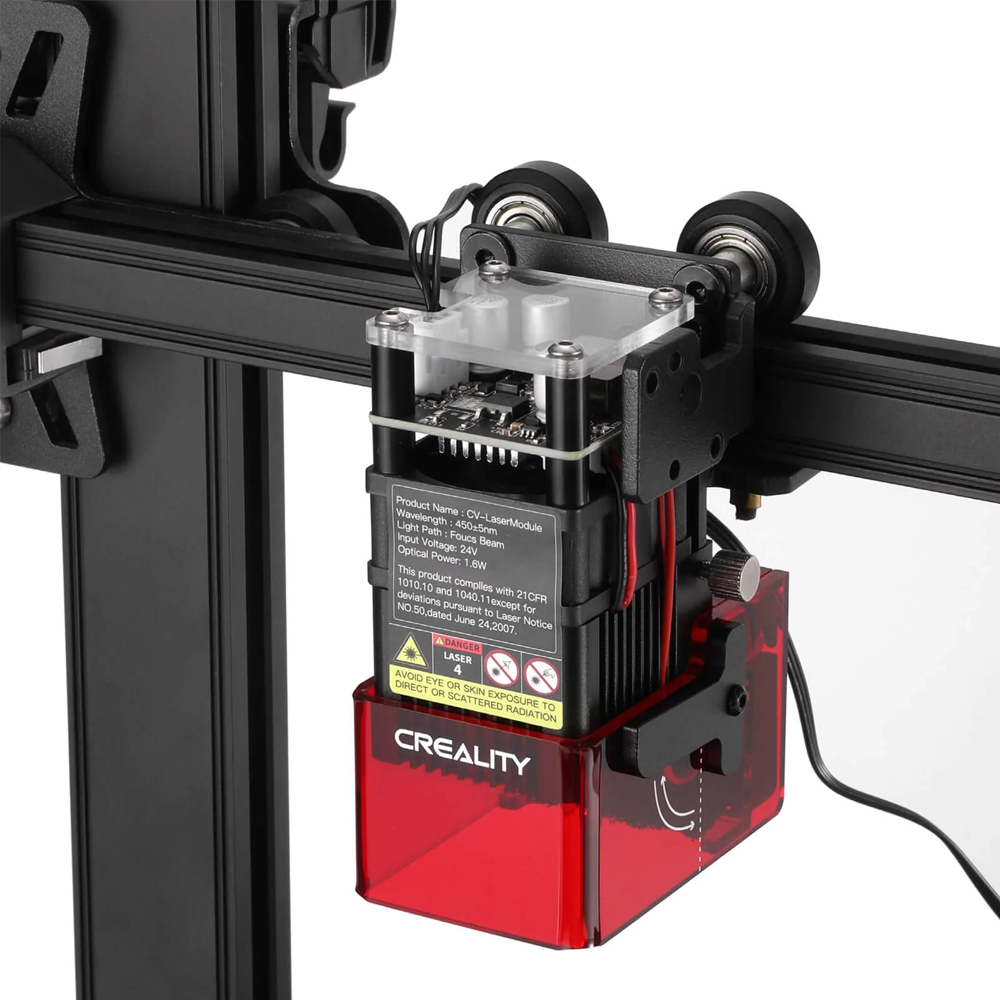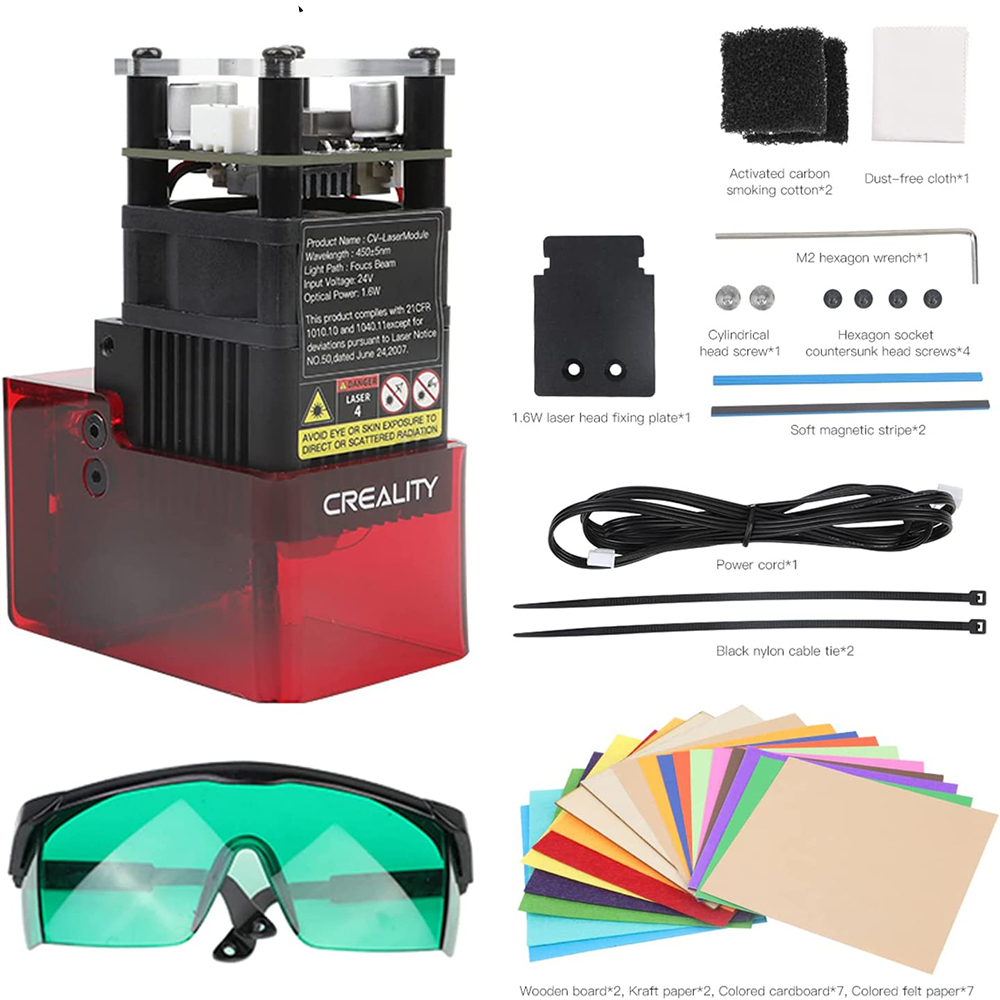 Ender-3 S1/S1 Pro/Plus Laser Engraver Kit, 24V/1.6W 3D Printer Engraving Laser Modules
Kits(Set)

Please select product attributes before purchasing~~
Ship to
It is expected to arrive within and will cost
$
USD
to ship
This item can't be shipped to this Country/Region
Bundles
${ meal.bage }
${ meal.title }
${ meal.skus }
${ sku.name }:
${ skuVal }
People who bought this item also bought
Creality CV Laser Engraver Kit (1.6W/24V) For Ender-3S1, Ender 3S1 Pro/Ender 3S1 Plus 3D Printer
Model: CV-Laser module
Optical power: 1.6W, DC 24V
Laser source: Semiconductor laser
Control signal: PWM
Laser wavelength: 450±5nm
Safety grade: FDA Class 4
Product size: 53x72x102mm
Package Size: 185x180x85mm/7.1 x 7 x 3.3in
Operating temperature range: 0℃-+40℃
Working humidity range: 10%~90%
Support material types: cardboard, wood, bamboo, rubber, leather, fabric, acrylic,plastic, etc....
Main Features
Fixed & Fine Focus:
Compared to variable focus laser modules, the light spot of the fixed focus laser module is smaller.
The unique convenient focusing unit can quickly and accurately fix the focus and provide the best performance. Long service life, sustainable use of 10000+ hours.
Upgrade Safety Cover, Full Protection:
Upgrade new safety cover that meets FDA Class 4 safety level requirements to prevent laser damage to eyes and skin.
Fast Heat Dissipation:
Large aluminum heatsinks, cooling DC fan and added heat dissipation holes allow the laser attachment to handle long hours of working.
Effectively purify smoke and dust:
The built-in air filter medium can effectively absorb the smoke and odors generated by burning. Reduce indoor air pollution and care for human health.
How to install & Firmware Updated
Step 1: Install the laser module assembly to the Laser mount on the print head and tighten it with the included cylindrical screw (Clockwise)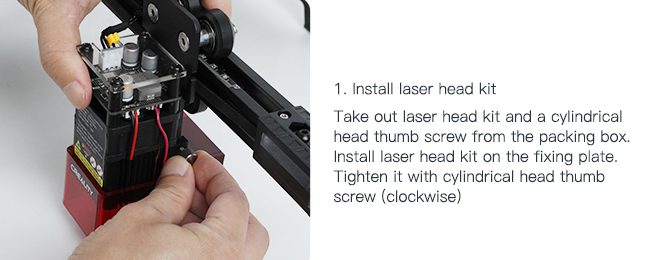 Step 2. Wire up and you can start engraving. (Please be noted that it is necessary to distinguish the direction of the interface since the connection port has an anti-reverse connection design)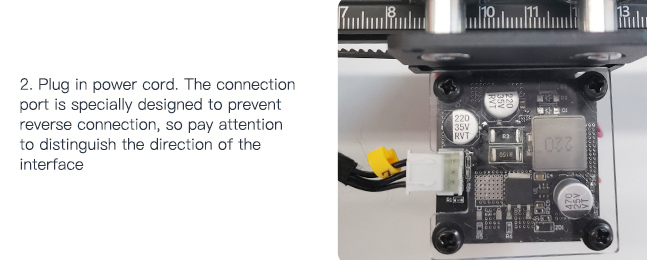 Step 3: Firmware Download: Please download the firmware that ends with "LASER", Example: Ender-3 S1 Pro HWv24S1_301_SWV2.0.8.22F4_F401_FDM_LASER (Firmware Download Please Click here)
NOTE: Ender-3 S1 Plus Firmware comes with laser module support from stock, so you do not need to flash the firmware.
Customer Reviews
Write A Review
Ask A Question
Reviews (0)
Questions (0)