Evaluating the Creality M4 3D Printer: A Comprehensive Assessment for Your Specific Needs
Creality M4: FAQs for everyday use
CREALITY CR-M4 QUICKSTART GUIDE
In this video compilation, we delve into the core functionalities of the Creality CR-M4 3D printer, revealing its full potential and capabilities.
Maintenance and Troubleshooting: Keeping Your CR-M4 in Prime Condition
If you need high-quality, large-scale printing at home, the enormous Creality CR-M4 is the printer you've been searching for.

With its generous build volume, stable construction, and impressive print quality, the CR-M4 offers ample space for creating large models with minimal post-processing required. Unlike larger printers that may struggle with instability and shaky frames, the CR-M4 excels in providing a reliable printing experience. Additionally, it offers optional features such as a camera, WiFi connectivity, and the ability to connect multiple printers through a single app, making it a strong contender for large-scale print farms.
The Creality CR-M4 stands out as a versatile 3D printer renowned for its exceptional precision and build quality. Designed to accommodate various materials like ABS, PLA, PETG, and TPU, it offers a broader range of applications compared to many other printers.
One notable feature is its expansive print bed, measuring 17.7 x 17.7 x 18.5 inches (450 x 450 x 470 mm). This makes the Creality CR-M4 one of the largest 3D printers available today. While it may be too big for the average user with typical printing needs, it becomes a compelling choice for those seeking to create massive models. For instance, if you're interested in printing full-scale armor pieces for cosplay or large terrain elements for wargaming, the CR-M4 emerges as an ideal option. It's worth noting that the printer's size and capabilities come with a corresponding price tag, so affordability is a factor to consider.The post-maintenance difficulty of Creality M4 can be said to be relatively low. In the event of a malfunction or maintenance, Creality provides a detailed user manual and support documents to guide users through common problems. Additionally, the Creality community is an invaluable resource where users can get repair advice, troubleshooting and help from other users. Overall, repairing the Creality M4 is doable for users with some technical background, and the support and resources are available to help with most issues.
In this review, we'll delve deeper into the CR-M4's features, capabilities, and overall performance to help you determine if it's the one for you.
Creality CR-M4 (Black) $1099

CREALITY CR-M4: SETUP & DESIGN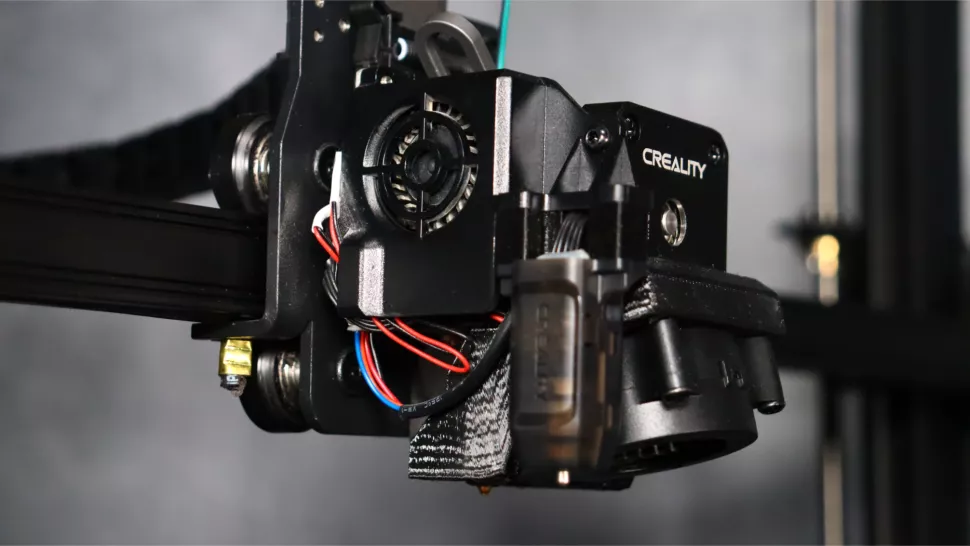 When setting up the Creality CR-M4, there are only a few simple steps to follow. This printer, like many other Cartesian-style printers available today, is relatively easy to assemble. The first step is to attach the upright assembly onto the base. This assembly consists of the vertical supports that will hold the printer's moving parts in place.
After securing the upright assembly, the next step is to attach the upright stabilizing tubes, which play a crucial role in maintaining the printer's stability and ensuring smooth and accurate operation of its moving parts.
Once the stabilizing tubes are in place, you can proceed to attach the cable chains. These chains house the wiring for the printer's motors and direct drive system. Each cable is clearly labeled, simplifying the process of connecting them to their respective destinations.
After the cable chains are attached, it's time to install the touch screen. This 4.3-inch screen serves as a vital component of the printer's user interface, enabling you to adjust settings and monitor the printing progress with ease.simplifying setup, navigation, and customization of prints. The intuitive 4.3-inch touch screen with a clear and simple menu system enhances ease of use, catering to users of all experience levels.
Lastly, you'll need to clip the filament spool holder and filament runout sensor onto the top of the printer. These components ensure a seamless and uninterrupted feeding of filament throughout the printing process, contributing to a hassle-free printing experience.
After completing the aforementioned steps, it is crucial to perform a thorough check of all the belts and wheels to ensure they are properly tightened and secured. Loose belts or wheels can significantly impact the printer's performance, leading to subpar print quality or potential damage. By ensuring everything is tight and correctly aligned, you can promote smooth operation and consistently achieve high-quality prints.Regular maintenance checks, including belts and wheels, are vital to ensure optimal performance.
In terms of design, with one notable improvement. have replaced the traditional V-slot wheels on the print platform with two CNC machined linear rails. This modification enhances stability and enables smoother motion compared to the conventional wheel design. This shift to linear rails is a trend we've observed in other printers like the Anycubic Kobra 2. Additionally, the single spool holder has been upgraded to accommodate two spools, facilitating quick and easy filament swaps.
The CR-M4 is equipped with a PC-coated spring steel removable platform that offers excellent adhesion while still allowing for effortless removal of prints once the bed has cooled. Furthermore, the 4.3-inch touch screen follows Creality's signature design, featuring a clear and user-friendly menu system that simplifies the process of adjusting settings, loading filaments, and monitoring print progress.
CREALITY CR-M4: SPECS & FEATURES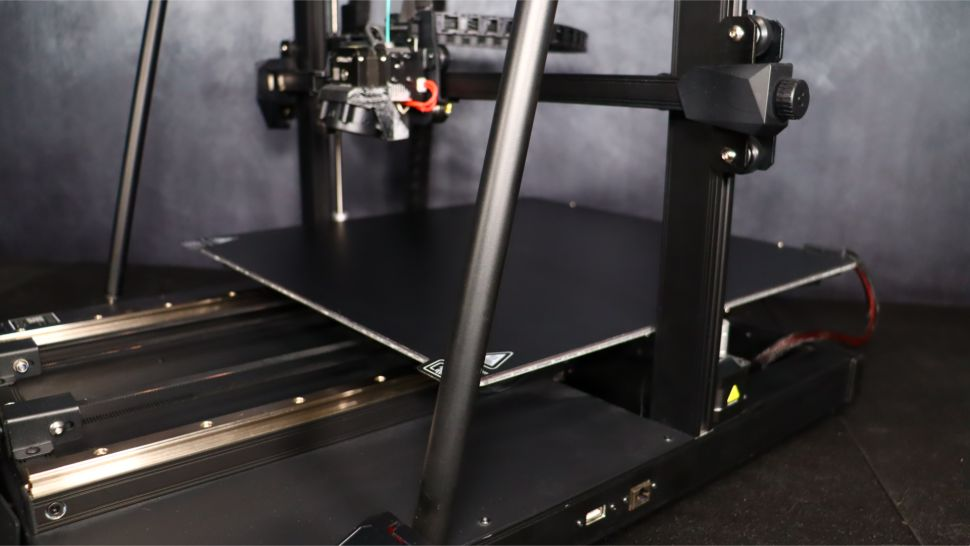 The CR-M4 has a large build volume of 450 x 450 x 470 mm, which means you can print larger objects or multiple items in a single print run. It's also equipped with a magnetic removable PC spring steel bed, which ensures that your prints adhere to the build plate and reduces the risk of the part coming off mid print.

The CR-M4 3D printer boasts a unique and innovative design, incorporating two Z-axis and support rods that synergistically form a robust triangular structure. This configuration plays a crucial role in creating a stable top frame, ensuring precise and accurate movements throughout the printing process. The incorporation of dual Z-axis, each equipped with independent motors, guarantees the gantry and Z-axis stay level and free from sagging, thus safeguarding the overall print quality.
Thanks to these enhancements, the CR-M4 delivers exceptional printing performance, resulting in visually appealing and high-quality models. The printer's dual Z-axis system, working in tandem with the stable top frame, facilitates the production of intricate details and smooth surfaces with minimal imperfections.
Beyond its outstanding performance, the CR-M4 also stands out for its user-friendly interface. The intuitive interface simplifies the setup process, navigation, and customization of prints. Whether you're a professional seeking a reliable 3D printer for business purposes or an enthusiast looking to elevate your 3D printing endeavors, the Creality CR-M4 stands as an excellent and reliable choice.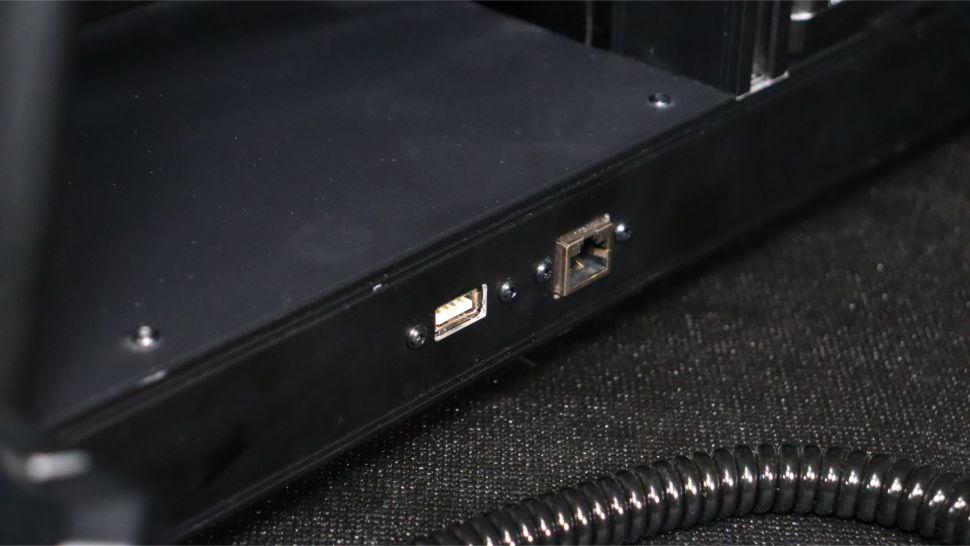 In terms of connectivity, the CR-M4 offers both WiFi connectivity and a LAN port. This allows users to monitor, slice, and load prints using the Creality Cloud app or site. You can also transfer files to it via USB drive. Additionally, an optional camera is available to make monitoring prints even easier. This camera can be simply plugged into the USB port on the side of the printer by the LAN port.
Overall, the CR-M4 offers some significant improvements over previous models, particularly in terms of stability and motion. The addition of a removable print platform and dual spool holder also makes it more user-friendly and versatile. Plus, with the ability to monitor and control prints remotely, as well as an optional camera, we think the CR-M4 is a great choice for both beginners and experienced users alike.
CREALITY CR-M4: PRINT QUALITY & SPEED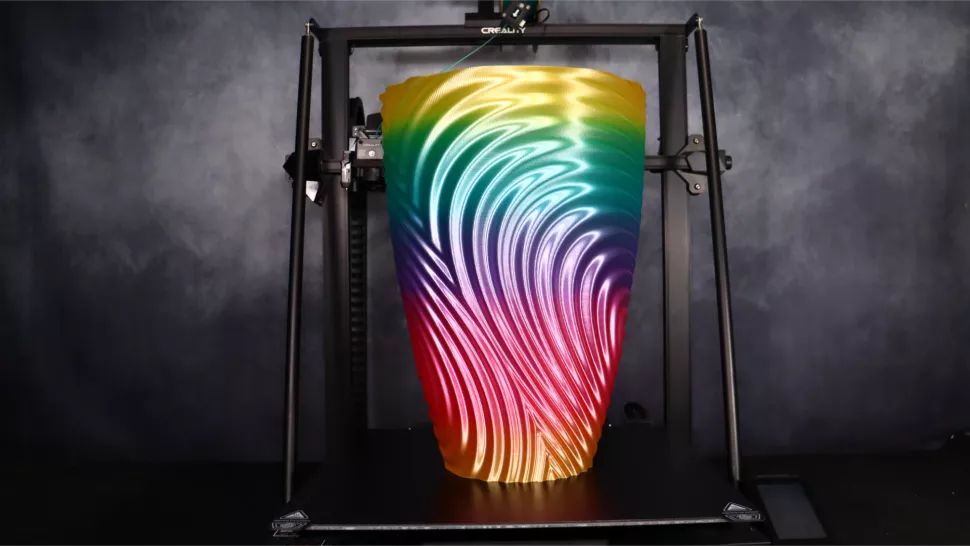 1.For our first print on the Creality CR-M4, we decided to print a simple vase, but at 350% of the normal size. The vase used nearly all of the printer's height, measuring 17.5-inches tall. We used Giantarm Silk Rainbow PLA for the print, which took approximately 12 hours in vase mode at a 0.2 mm layer height. The purpose of this print was to test the printer's large print volume, which measures at a massive 450 x 450 x 470 mm.The Giantarm Silk Rainbow PLA we used for the print is a high-quality filament that produced a smooth, glossy finish on the vase, even at this large scale. Overall, the CR-M4 handled the print well and produced a high-quality result.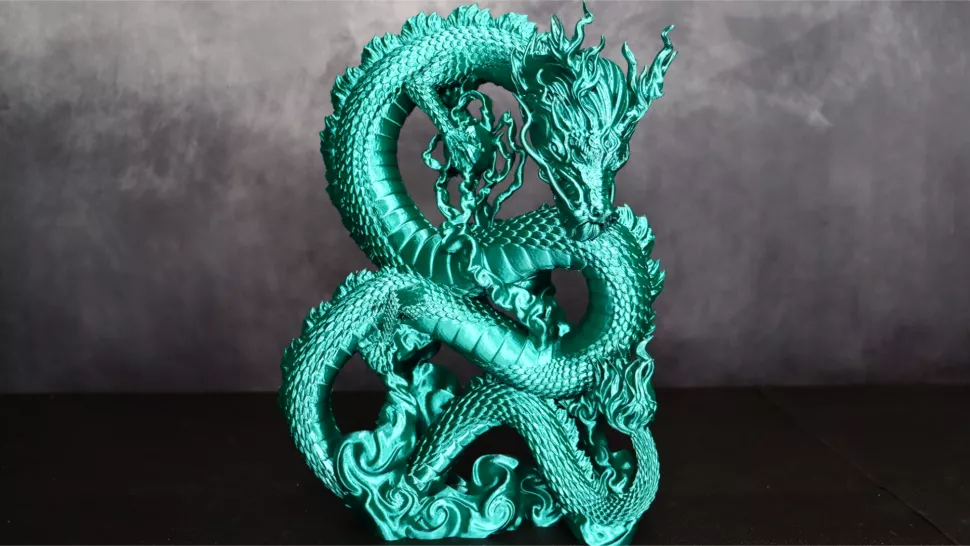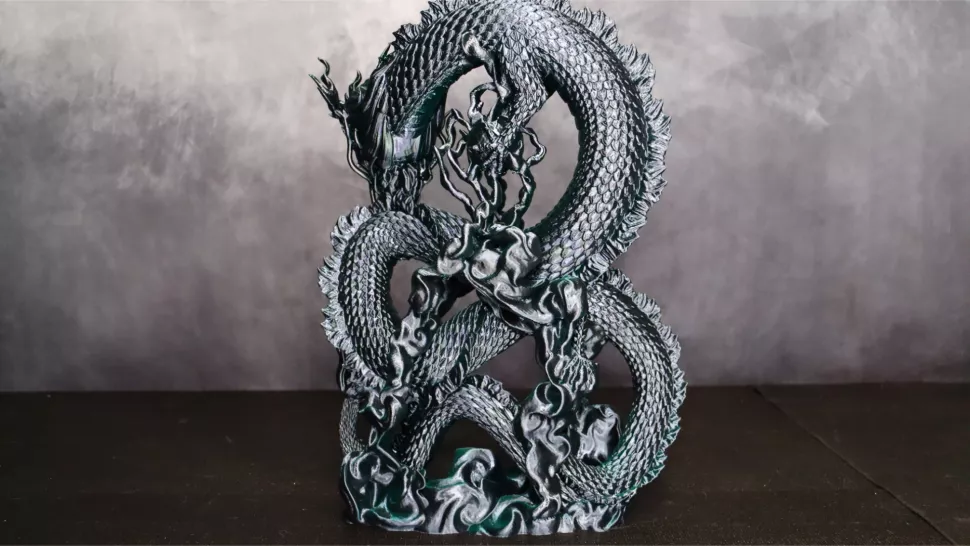 2.We scaled the model up to 200% and used Dual color Green and Black PLA. With a layer height of 0.2 mm and 5% gyroid infill, the print took 59 hours to complete.
The results were simply amazing. The dual color PLA printed perfectly, with the front half of the print in a bright green and the back side in a nice silk black color. The overall effect is stunning, making for a truly impressive print. The Dual color PLA is a high-quality filament that provided a smooth finish on the print and allowed for great color separation between the green and black sections.Despite the print taking a significant amount of time, the CR-M4 handled it with ease and produced a high-quality result.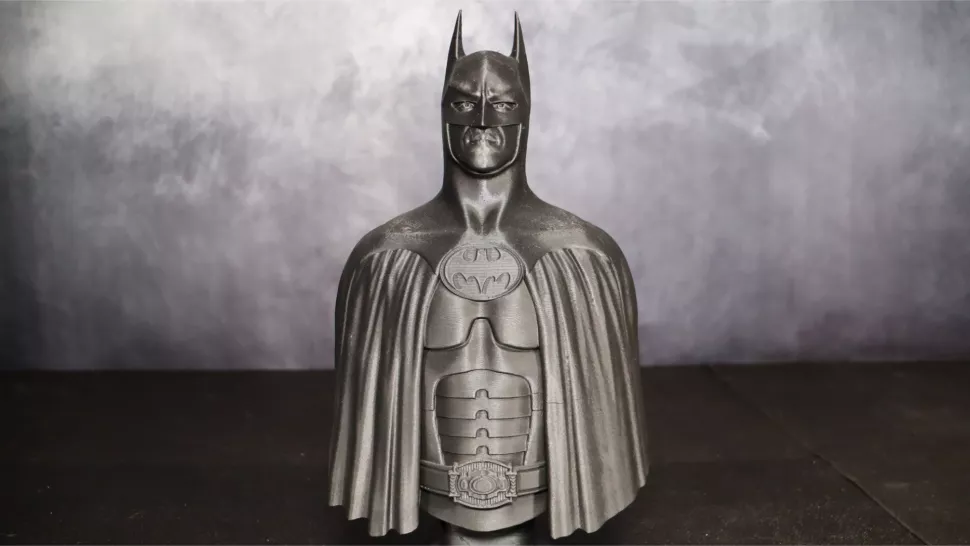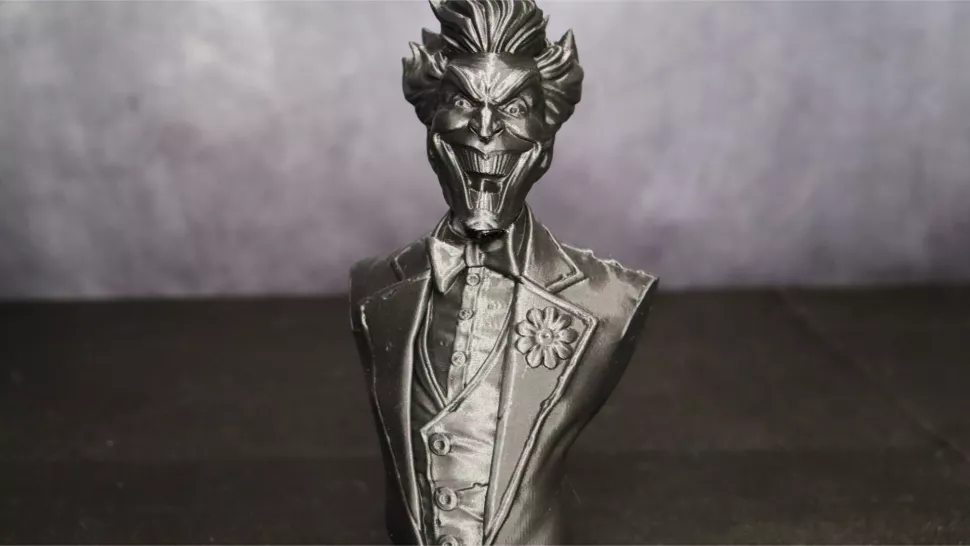 3.For our final prints, Specifically, we printed the Batman 1990 and Joker busts, using Black PLA and a layer height of 0.2 mm at 100 mm/s. The two busts and stand for Batman took just under 26 hours to complete.The prints came out fantastic with no issues, and all the details were clearly represented. The CR-M4 performed admirably, with no stringing while the hot end moved from part to part, showcasing the excellent performance of the Sprite direct drive. The Black Matte PLA provided a smooth, clean finish on the busts, with no visible layer lines.Printing busts like these can be challenging due to the high level of detail required, but the CR-M4 handled the job with ease, producing impressive results. The busts are a testament to the capabilities of the CR-M4 and the high-quality of the prints produced by this machine. Overall, we were very pleased with the performance of the CR-M4 and the quality of the prints it produced.
CREALITY CR-M4: PRICE & WARRANTY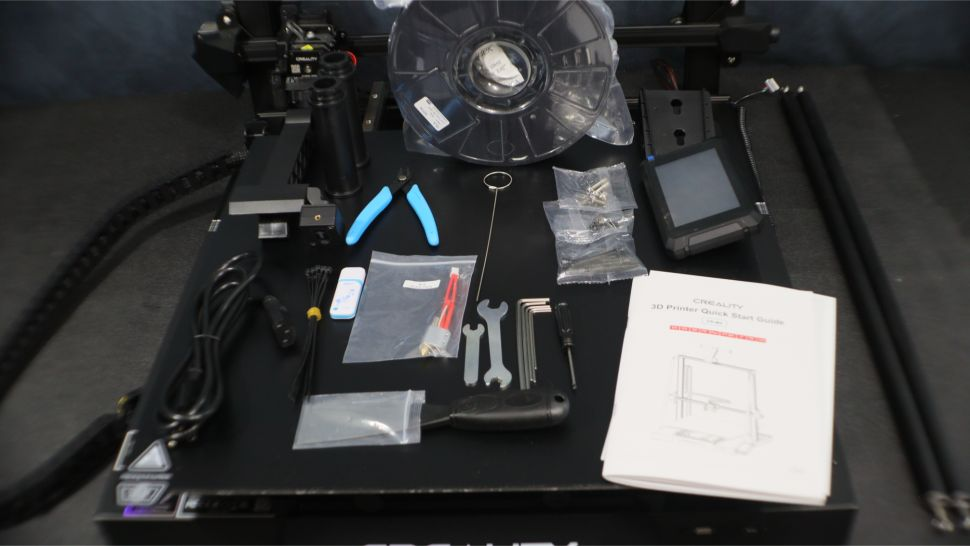 Despite its retail price of $1,099, but Creality CR-M4 offers a feature-rich and capable package that justifies its position in the higher price range. Considering the range of advanced features and capabilities it provides, we believe that it delivers solid value for the price.
The Creality CR-M4 comes with a standard 12-month limited warranty provided by Creality, ensuring peace of mind for customers. Complete details regarding the warranty can be found on Creality's website. Additionally, Creality offers an optional CR Care+ service, which extends the warranty period beyond the initial 12 months for an additional cost. This service is ideal for users who want to prolong the warranty coverage and ensure that their printer remains in optimal condition and fully operational for an extended period. By opting for the CR Care+ service, users can maximize their investment in the CR-M4 and have the confidence that we are well-supported even after the initial warranty period.The Creality community serves as a valuable resource for troubleshooting, idea sharing, and accessing a wealth of knowledge and support.
SHOULD YOU BUY THE CREALITY CR-M4?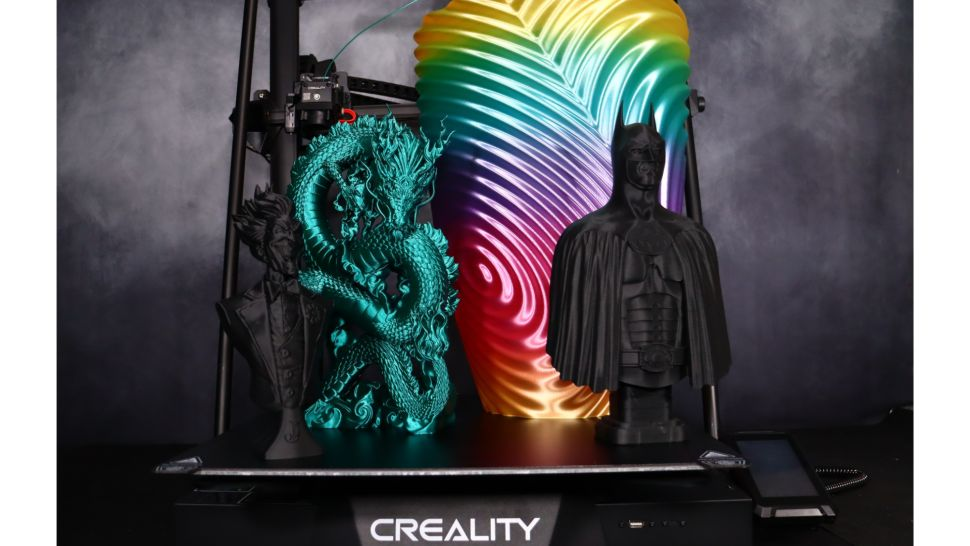 The Creality CR-M4 is a remarkable 3D printer that stands out with its expansive build volume, catering to the needs of professionals and hobbyists who require ample space for their projects. Its connectivity options further enhance its appeal, particularly for mass production purposes. With the ability to connect multiple CR-M4 printers to a single app, managing and monitoring several printers becomes effortless, saving valuable time and streamlining operations.
During our comprehensive testing, we were particularly impressed by the printer's exceptional bed adhesion performance. The high flow Sprite direct drive extruder proved to be highly effective, resulting in minimal to no stringing between multiple parts on the print bed. This not only enhances the overall print quality but also ensures cleaner and more precise prints.In summary, the Creality CR-M4 is a reliable and efficient 3D printer that offers significant value for its price. Whether you are a professional seeking a reliable production unit or a hobbyist in need of a large print volume, the CR-M4 is definitely worth considering. Its impressive features and performance make it a standout choice in the market.